Legends! As you know, our community is constantly creating memes and content on our Discord. That's why we have decided to run a Meme Contest! We love to see you fight, but… we also want to see your creative side!
Here are some classic memes of our community!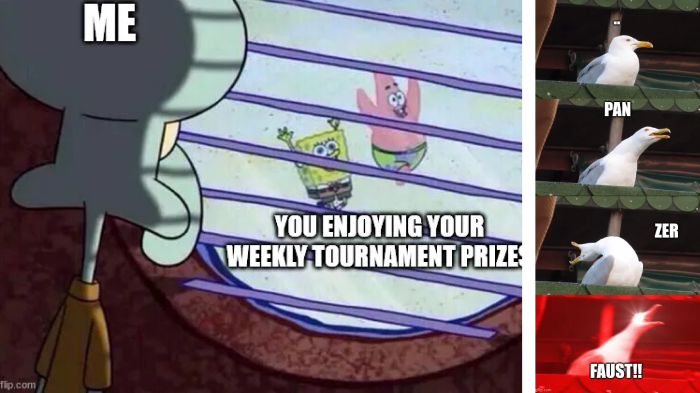 So, it's time to bring out your funny side! 🧑‍🎨 We want to see what memes you can think of with your experiences in War Legends! Everything is welcomed,we want to have a laugh together!
Participating is very easy! Let's take a look at the steps:
1️⃣Post your War Legends Meme on Twitter (you can participate as many times you want)
2️⃣Tag @warlegendsco
3️⃣The 3 Tweets with the most engagement on Friday at 12:00CET wins.
4️⃣WIN these amazing prizes:
🥇place gets a Gold Lootbox. $300
🥈 place gets a Silver Lootbox. $180
🥉place gets a Bronze Lootbox. $100
And that's all! So share your memes with your friends and WIN NFT's! So crazy!
Oh! Before you leave! Just 2 reminders!
These next few days are the end of two very important activities we have going on:
Weekly Single Player Tournament
The goal is to kill all 20 enemies in our Single-Player Mode as fast as possible!⏰ And that's not all… every week we will mix it up and have something new for you: different maps, different enemy powers and a few other secret surprises, so it will never be the same as the last! It will get crazy!🤪
All the details here⬇️
Legends!🔥Discover our new weekly activity, and the juicy prizes behind it!
War Legends Daily Game sessions
Every day at 12:00 UTC you can find on our Discord Legends ready to play 4vs4 MOBA battles! So if you want an experience full of adrenaline and fun, I wouldn't miss it if I were you. Find us here! ⬇️
Discord is the easiest way to communicate over voice, video, and text. Chat, hang out, and stay close with your friends…
See you in the front line, Legends!🥇