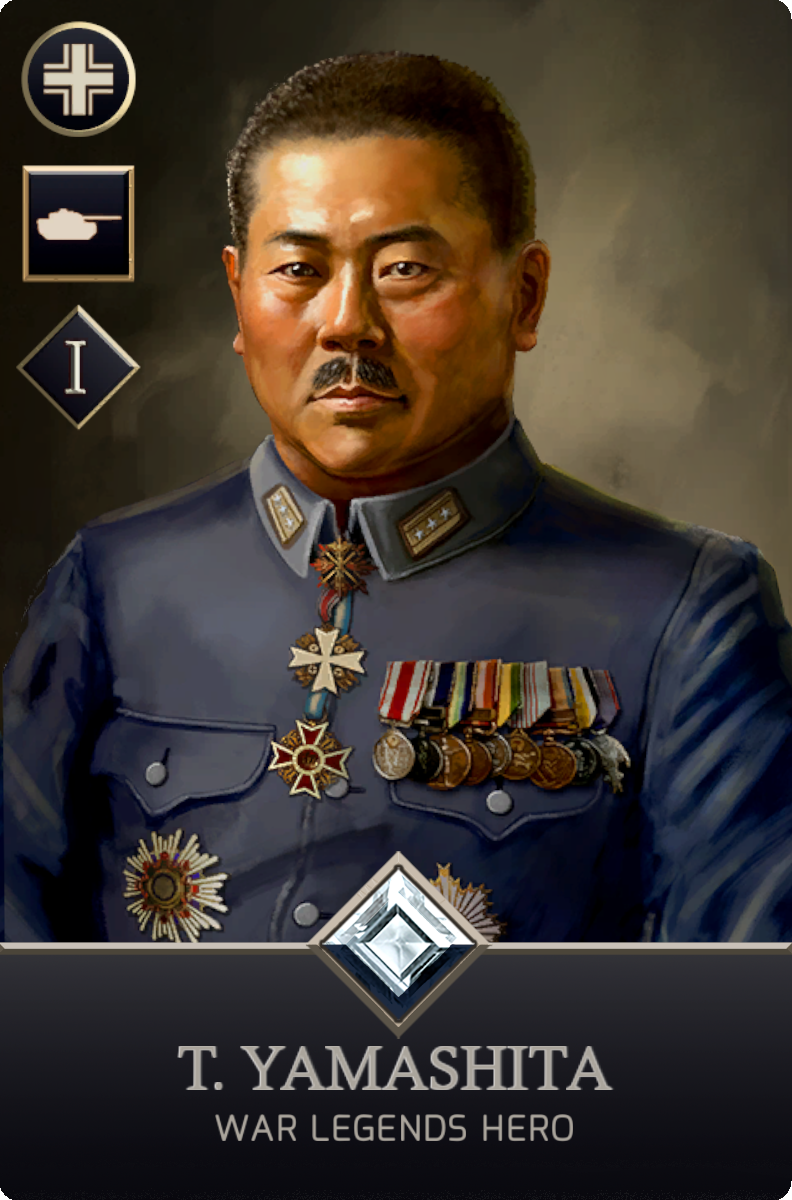 Hero Background
Tomoyuki Yamashita was born on 8 November 1885 in Osugi, a village in Shikoku Prefecture in Japan.
Yamashita was educated at a military school until he came of age, then he joined the Japanese Imperial Army where he graduated as an officer.
After his time at the Imperial Academy in Tokyo, Yamashita was promoted to lieutenant and was assigned to a combat unit. During World War I in 1914, Yamashita faced German Army soldiers during the Battle of Tsingtao in one of the German colonies in China. Thanks to his skill and performance, Yamashita was admitted to the Military War College and promoted to captain in 1916.
After World War I ended in 1918 with Japan's victory over Germany, Yamashita was amazed by the country that was his former enemy and in 1919 he was assigned to Berlin as a military attaché at the Japanese embassy where he learned German, later being assigned as a military attaché to Vienna where he spent 3 years. On his return to Japan, he was promoted to Colonel and assigned to command the 3rd Army Regiment.
Thanks to his professional successes, Yamashita gradually ascended through the military ranks despite certain dissenting opinions, such as that of Emperor Hiro-Hito himself, who was displeased that he had appealed for clemency for the rebels captured in the Tokyo coup of February 1936.
When Japan entered World War II on 7 December 1941, Yamashita led the Japanese 25th Army on a mission to invade Malaya to repel the British Army. He planned a three-pronged attack. Two landings were made at Singora and Pantani and another one at Kota Bahru. They began the attack when they were informed of the attack on Pearl Harbor.
During a two and a half month campaign, the forces of the 25th Army swept through Malaya and forced the surrender of British troops and the Singapore naval base on 15 February 1942. He was given 100 days for the mission, but Yamashita accomplished it in only 70 days. Japanese casualties were 10,000, while the British lost 138,000 men. This earned Yamashita the nickname ''Tiger of Malaya''.
Once Southeast Asia was occupied by the Japanese Empire, General Yamashita did some occupation work, where he ordered the execution of a Japanese commander for allowing the Alexandra Hospital Massacre in which a group of Japanese soldiers murdered fifty British doctors, nurses and patients.
On 20 October 1944, more than 1,250,000 US Army troops under General Douglas MacArthur landed in the Philippines on Leyte Island against 430,000 Japanese troops led by General Tomoyuki Yamashita. For long months, Yamashita and his army fought in different territories of the archipelago, until the landing on Luzon across the Lingayen Gulf, which prompted the Japanese general to order a retreat into the jungle and declare the capital of Manila an "open city" to avoid possible civilian casualties and the destruction of the city itself. Unfortunately, a number of military radicals refused to obey Yamashita's order and entrenched themselves in the capital to continue fighting to the death, resulting in the Battle of Manila and a massacre that killed 100,000 Filipinos and devastated the city.
For the remainder of the Pacific War, Yamashita retreated with 50,000 Japanese troops and Filipino collaborationists to northern Luzon, where he organized a guerrilla army that held out until the end of the conflict.
As a prisoner of the Western Allies, Yamashita was listed as a war criminal and tried for what happened in both the Alexandra Hospital Massacre in Singapore and the Manila Massacre.
On December 7, 1945, Yamashita was convicted and sentenced to death, and on February 23, 1946, he was hanged on the gallows of Laguna de Los Banos Prison.