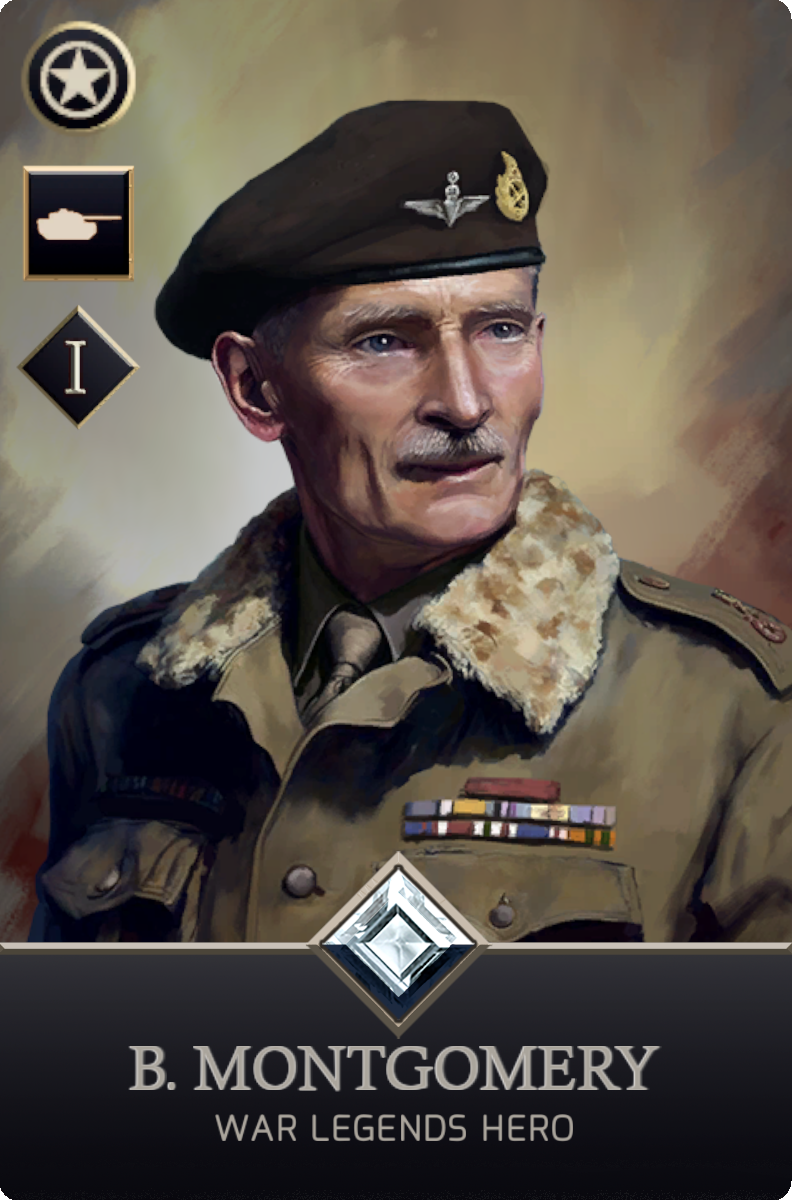 Hero Background
Bernard Mongomery was born in 1987 in London being the fourth child of nine children. He grew up in Tasmania because his father Henry H Montgomery was a bishop in the Anglican church where he received a strict Victorian education that often included physical punishment as a reminder of that discipline. The coldness that reigned in his home, together with all the mentioned above, made Montgomery a rebellious young man.
After the Montgomery family returned to London in 1897, Montgomery studied at King's School and St Paul's School and entered the Royal Military Academy at Sandhurst, from which he was nearly expelled on several occasions due to his conflictive behavior.
After graduation he joined the 1st Battalion of the Royal Warwickshire Regiment, being promoted in 1908 to second lieutenant, first lieutenant in 1910 and sent to serve in India until 1913.
During the First World War Montgomery was sent to fight in France, where he was hit by a sniper who was stationed there and pierced his lung, had it not been for the body of a sergeant who fell on top of him as he tried to help him, the sniper would have killed Montgomery.
After the war Montgomery was appointed commander of the 9th Brigade in Quetta (Pakistan) during the interwar period. Montgomery married Elizabeth, giving her an only son, David Montgomery.
Elizabeth, who died of septicemia caused by an insect bite, was a debacle in Montgomery's life that he could only move forward by focusing on his career.
In 1940, during the Second World War, Bernard Montgomery was sent to fight in France with the 2nd Corps, which he commanded, culminating in a disastrous retreat in what was called the "Dunkirk Disaster".
In 1942 he was sent to North Africa, replacing General Claude Auchinleck, and in command of the VIII British Army he faced Irwin Rommel himself in the battles of Alamein. Despite the superiority of the British army, Montgomery was certainly a cautious man, as he led the battle always looking for safety rather than victory, although in fact during the liberation of Sicily and the rest of Italy, after the fall of Tunisia, Montgomery and Patton engaged in a fierce competition to see who would win the most victories.
Because of his good performance during the war, the Nazis aimed to eliminate Montgomery, which was known to British intelligence who took matters into their own hands and set up a double to deceive the Germans and make it difficult for an attack to take place.
In September 1944, Operation Market Garden, which was planned and directed by Montgomery and consisted of capturing bridges taken by the Nazis over a series of rivers in the Low Countries to create a corridor through which Allied troops could cross the only natural barrier separating France from Germany (the Rhine River). The operation involved over 100,000 troops and was the largest Allied airborne operation but also the biggest failure of the Allied forces.
At the end of the war he was made a member of the Allied Council and promoted to Commander-in-Chief of British troops. In 1946 he received the noble title of 1st Viscount Alamein and succeeded Alan Brooke as Chief of Staff.
On 24 March 1976 Bernard Montgomery died of undeclared causes at his home in Alton Hampshire at the age of 88.