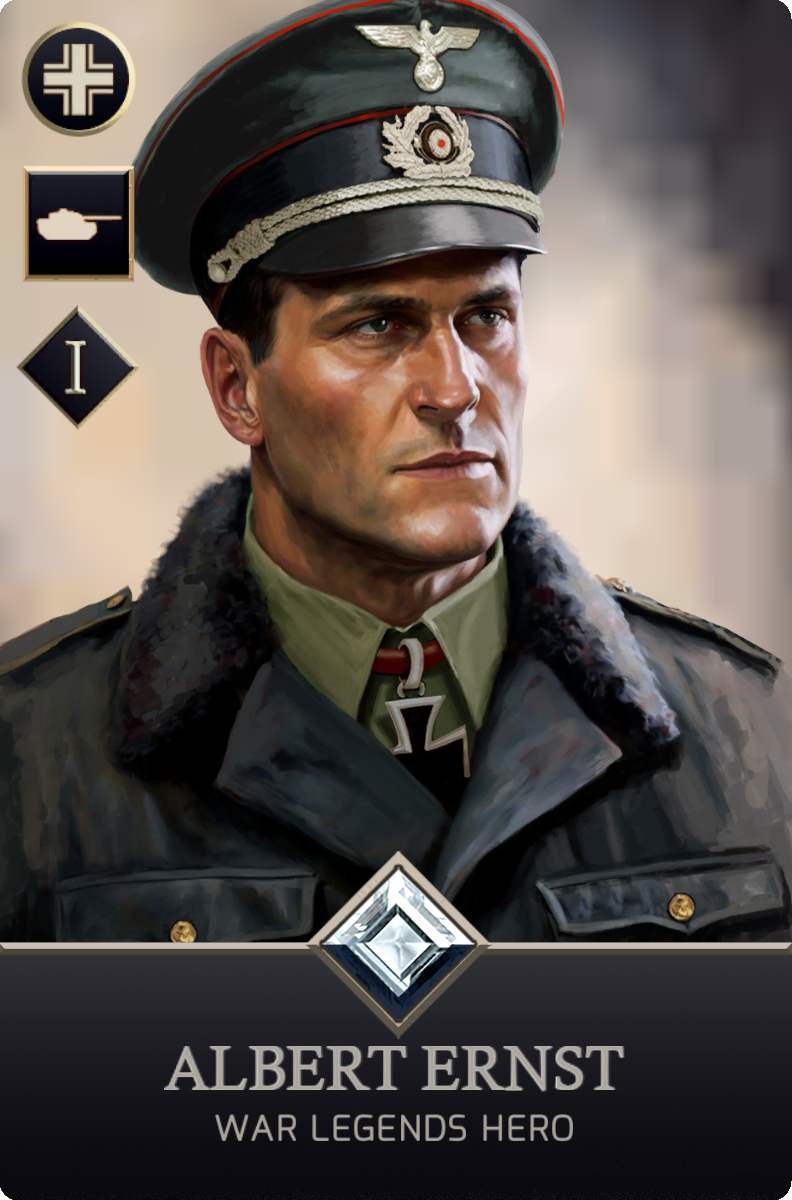 Hero Background
Birth:15 November - 1912
Albert Ernst was a German anti-tank commander who during World War II became the leading Panzer ace of the Nashorn model.
It was from 1943 that he began to use the mighty Nashorn. With this vehicle he achieved great achievements, especially in the defense of the Belarusian people, which gave him his nickname "The Tiger of Vitebsk". He was awarded the Knight's Cross for defeating 55 enemy tanks due to his combat efficiency.
He had to leave the Eastern Front after being severely wounded in the head.
In 1930, at the age of 18, he enlisted in the Reichswehr and for a few years received progressively more vehicle training, so that he soon acquired knowledge of motorbikes, armored vehicles and the first Panzers of the new German Wehrmacht. The outbreak of the Second World War led to his participation in the Polish Campaign in September 1939. There he was awarded the Iron Cross 2nd Class for his bravery at the Battle of Kutno, during which he destroyed his first enemy armored vehicle using an anti-tank gun.
Possibly from 1942 to 1943 he served in units equipped with Marder III or similar anti-tank guns, which gave him the experience that led to his promotion to lieutenant and his selection for the formation of the new tank destroyer unit equipped with the new Nashorn model.
The Nashorn was a lightly armored tank, built on a Panzer IV-derived chassis, but armed with what is generally considered to be the best anti-tank gun of the war. That gun was the 88mm PaK 43, which was particularly effective in long-range combat. Albert Ernst was valued and recognised for his excellent handling of vehicles, knowing their faults and exploiting their strengths.
Albert Ernst also held the record for shooting down a tank at long range. He is credited with an accurate shot at 4.8 km. He also destroyed an aircraft on the ground.
He was considered a sniper in the tank divisions.
He later fought on the Western Front, where he eventually surrendered (in what is said to be a chivalrous manner) in command of a Jagdtiger heavy tank destroyer unit, saving the German city where he would live for the rest of his life. He is credited with a total of 75 enemy tanks shot down.